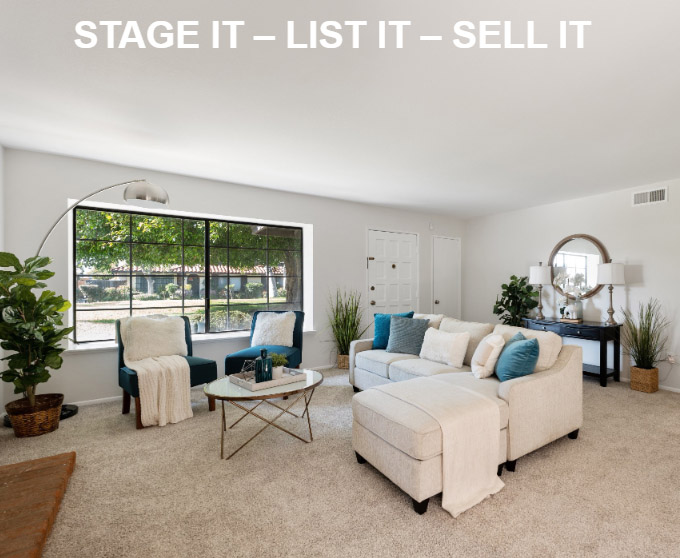 While price creates interest, home staging brings offers!
Here at First Home Staging, our focus is simple, to get you the maximum results whether you are flipping a home or selling your own home. We work with investors, builders and real estate agents along with home owners. We currently serve all 3 counties: Orange, Los Angeles and Inland Empire within a 50 mile range of our warehouse. Our warehouse has extensive inventory to match any style home, we also have our own truck along with movers and stagers to set up and remove staging after your home is sold. Our fee includes delivery, set up, design and removal of all staging items.
Ask us about our virtual consultations!
949.522.2121
VACANT HOME STAGING
Creating a customized lifestyle image that targets likely buyers
Vacant staging allows us to fully customize the furniture, art work and accessory selections to showcase your home or listing at its best.
We bring in carefully chosen furniture and accessories from our extensive inventory that highlight the most desirable qualities of the property.
This option will yield the highest return on your investment
Vacation staging is ideal for home owners who have already moved out of their home and wish to sell quickly.
Options include staging the entire house or just the highest impact rooms.
Pricing varies based on square footage of areas to be staged, access and location.
OCCUPIED HOME STAGING
Providing an individualized plan of action for occupied homes before staging
During the time of COVID19, consultations are still available with one of our designers, virtually!
A comprehensive walk-through of the home will be performed to assess furniture, furniture placement, flow, clutter, lighting, and color.
Focal points of the home will be identified as well as any problem areas.
Following an evaluation of the property as seen through the buyers' eyes, we provide a complete list of our recommendations designed to get the most money for the home in the shortest time possible.
This consultation usually takes about 1 hour based on the size of the home.
$150 consultation fee goes towards your staging fee. Pricing varies based on the amount of furniture and decor we provide, access and location.
PROFESSIONAL PHOTOS
Professional listing photos and virtual tools work in harmony with your staging design and have a significant impact on both your selling price and how quickly your home sells. Check out these stats:
Homes with high quality photography sell 32% faster.
Homes with more photos sell faster too. A home with one photo spends an average of 70 days on the market, but a home with 20+ photos spends 32 days on the market.
For homes in the $200,000 to $1 million range, those that include high quality photography in their listings sell for $3,000 to $11,000 more. (we believe more in our market)
Eighty-seven percent of homebuyers who searched for a home on the internet found photos to be among the most useful features.
Our Professional Photography Packages will provide you and your realtor with a selection of high-quality images to beautifully showcase your listing online and get your home added to the must-visit list for potential buyers. We will coordinate with our team of photographers so your photos can be taken right after staging. A link to download will be provided. Please call for pricing (949) 522-2121!
If you are looking for results, we are the staging company to bring you the best value for your investment.